Ambassador Couple
passion as the Only Horizon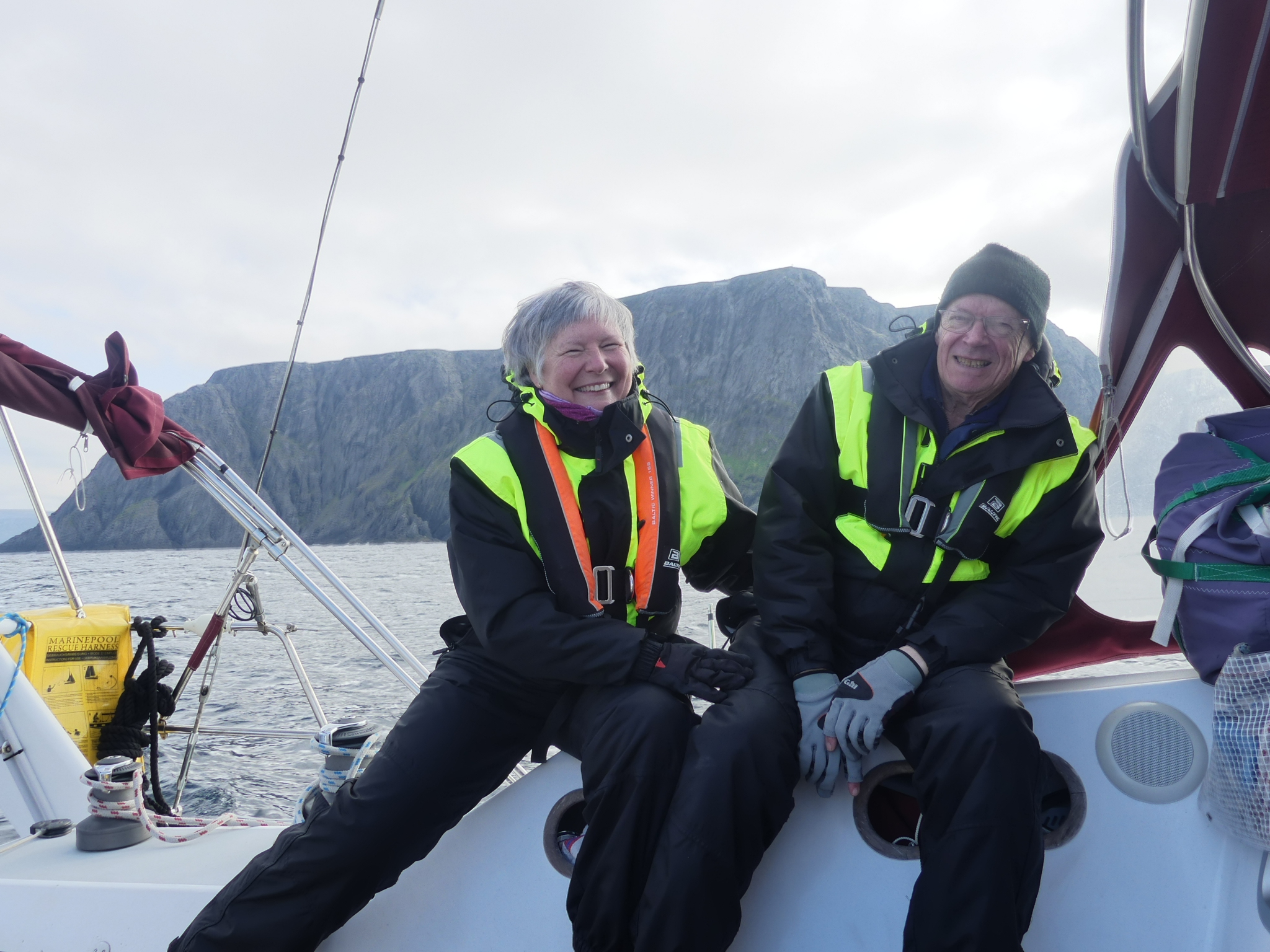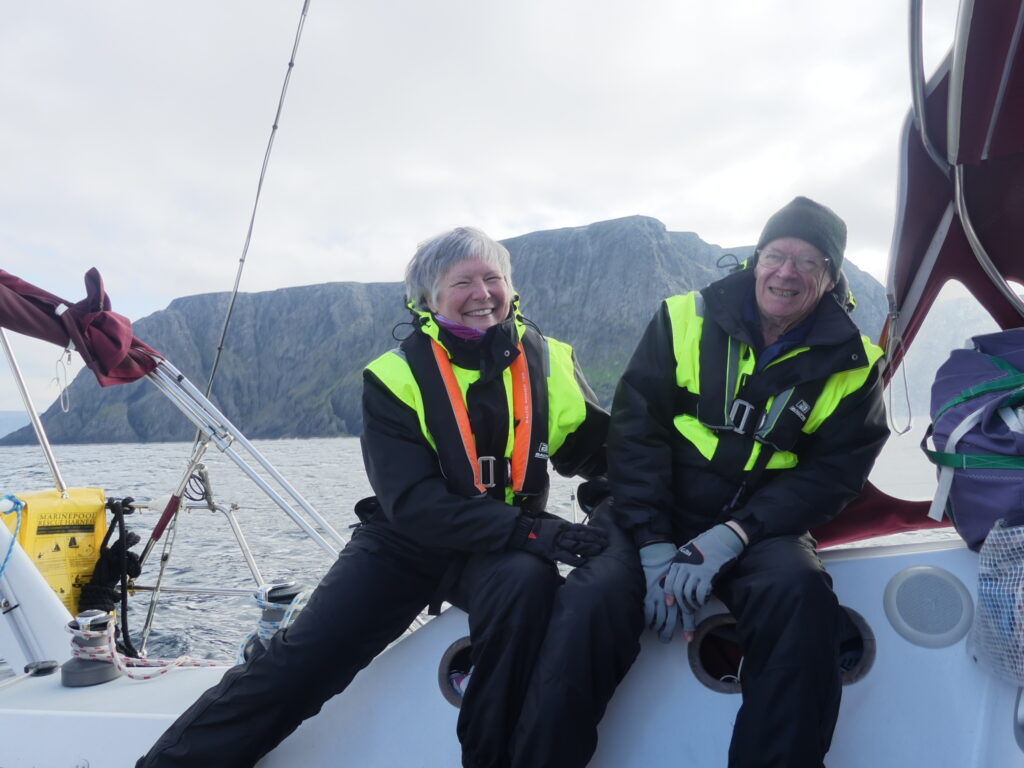 Valérie and François met in 2002 and married in 2008. Sailing was a decisive factor in their relationship, since it was essential for François to live with a woman who understood the sea and would agree to follow him on his travels.
A native of Lorient, he began sailing at the age of 11 on the various cruisers successively acquired by his parents, and on which they spent all their holidays, (up to seven of them including the five children on an Arpège). It's safe to say he has sea water in his veins.
Valérie also started early, attending sailing classes in Finistère and earning her stripes aboard, successively, an Optimist, a Caravelle, a Vaurien and a 420, amid the pebbles of Portsall. In 2002, she represented Dutch charter schooners in France, thanks to which they first got talking.
They first sailed together on motorboats to enjoy all their spare time comfortably at sea, to destinations easily accessible from Brest: southern and northern Brittany, the Isles of Scilly, Cornwall, and the Channel Islands.
​
François sails for the love of sailing, Valérie for the love of travel. Their life at sea is a permanent compromise, punctuated by lots of stopovers.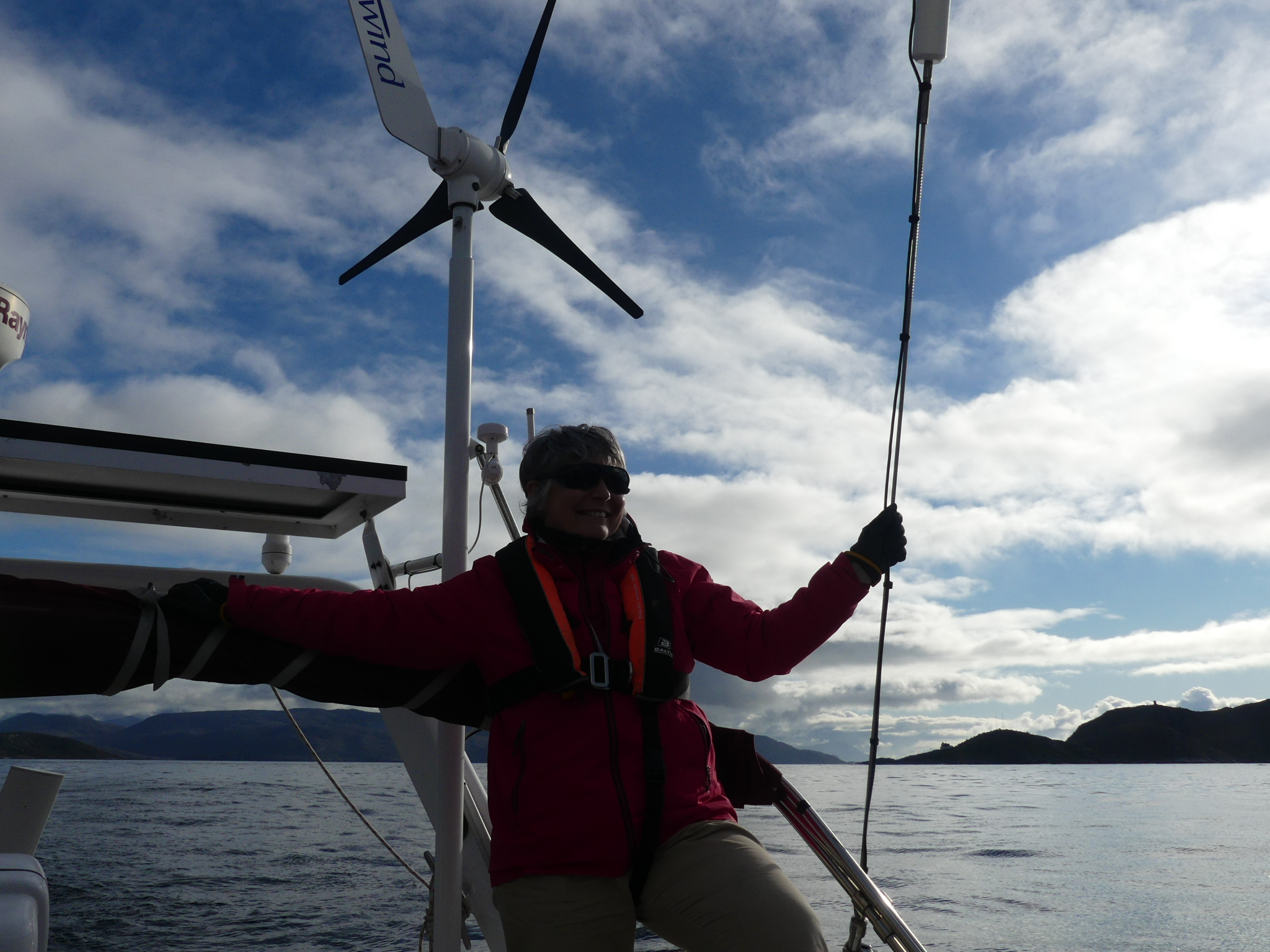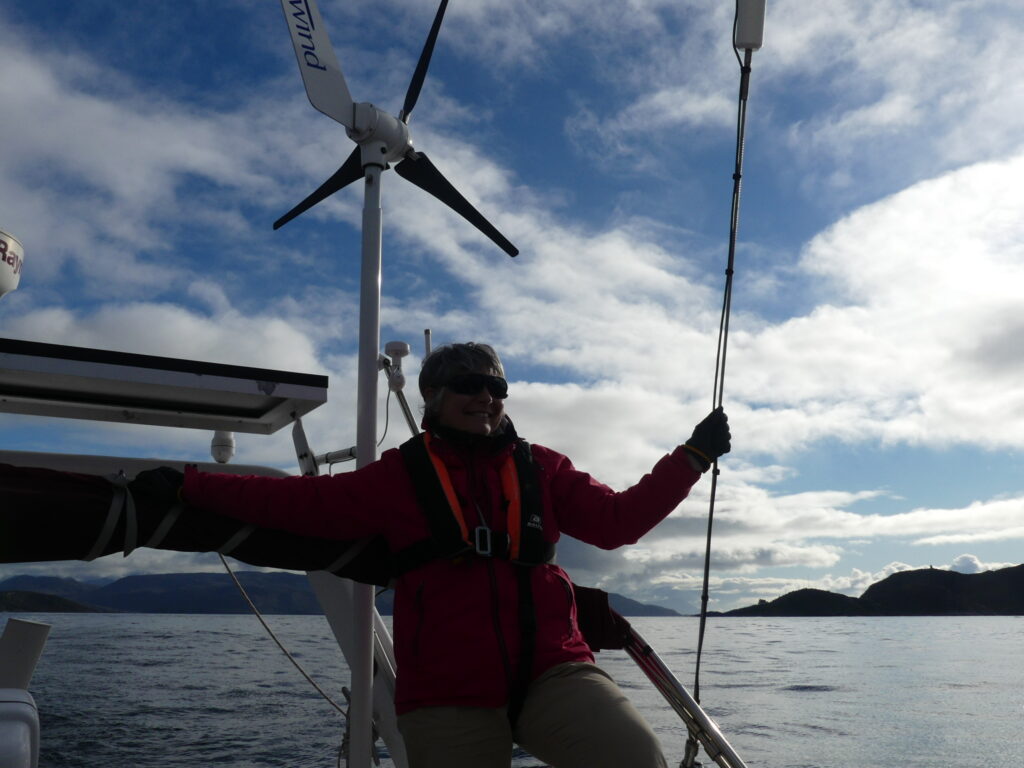 Staying Free !
Since they first met, they have been planning this journey after François's last 10 years of professional activity. He decided to give up his career, which was exciting but demanding, at the age of 62, to ensure he could maintain a sufficient level of physical fitness for sailing. And it's a decision he has never regretted, despite the budgetary constraints it imposes.
Retiring in late 2011, they found the boat of their dreams in Portugal in March 2012, after searching for two years. It was an OVNI 445, an aluminium centreboard yacht built by Alubat, which they fell in love with at first sight.
By Easter they were bringing it back – with a crew – to France. They spent a year preparing it, testing it and fitting it out for their trip. Meanwhile, they emptied out and sold their house in Brest, in order to cut material ties to France and enjoy their life on board to the maximum. When they return to France for a few weeks each year they are lucky to have the hospitality of their extensive family and friends, with whom they share tales of their adventures.
In May 2013 they set off for the North. They planned to sail there for two or three years before heading back down to sunnier climes… but that was before they discovered the charm of Scandinavia. They are still there today, in latitudes known for less forgiving conditions, yet packed with sailing locations each more welcoming and spectacular than the next!
They have travelled and explored along the coasts and canals of Holland, Germany, Denmark, Sweden, Finland, Estonia and Norway,
as far as Spitzberg, in the Svalbard archipelago, and the mythical North Cape. In the autumn of 2019, after another season exploring the islands of Lofoten and the magnificent coastline of Helgeland in Norway, the returned to France for a nomadic winter before setting off again.
Further seasons have not yet been planned. "Their plan is not to have a plan." They enjoy sailing slowly, to make the most of the landscapes they drift through along the numerous intra-coastal channels. Their seasons of 5 to 6 months of sailing account for around 2,000 to 2,500 nautical miles. They have wintered onboard for three years in a row in the heart of magnificent Stockholm and one winter north of the Arctic Circle in Bodo. Thanks to being well equipped, the climate no longer bothers them. Baltic summers have even proven to be very hot at times.
NVequipment
your Ally Against the Weather
Purchased during a stopover in Germany in 2014, they have become devotees of the "Kuchenbude", the German term for an enclosed cockpit tent, which literally means the place where you eat cakes! This word is a very good illustration of the Nordic spirit, where all boats are equipped with this extra room. Assembled every evening on arrival at the port or mooring, it makes it possible to enjoy the often chilly or windy evenings and the active life outside: the "Hafenskino" (harbour cinema) as the Germans also say, while keeping nice and warm, as a couple or among friends.
They had been able to adapt the side fastenings onto the existing bimini and sprayhood, but working with NVEQUIPMENT enabled them to replace the whole unit (the hood unfortunately came to the end of its life, due to exposure to the hot Portuguese sun in its early days).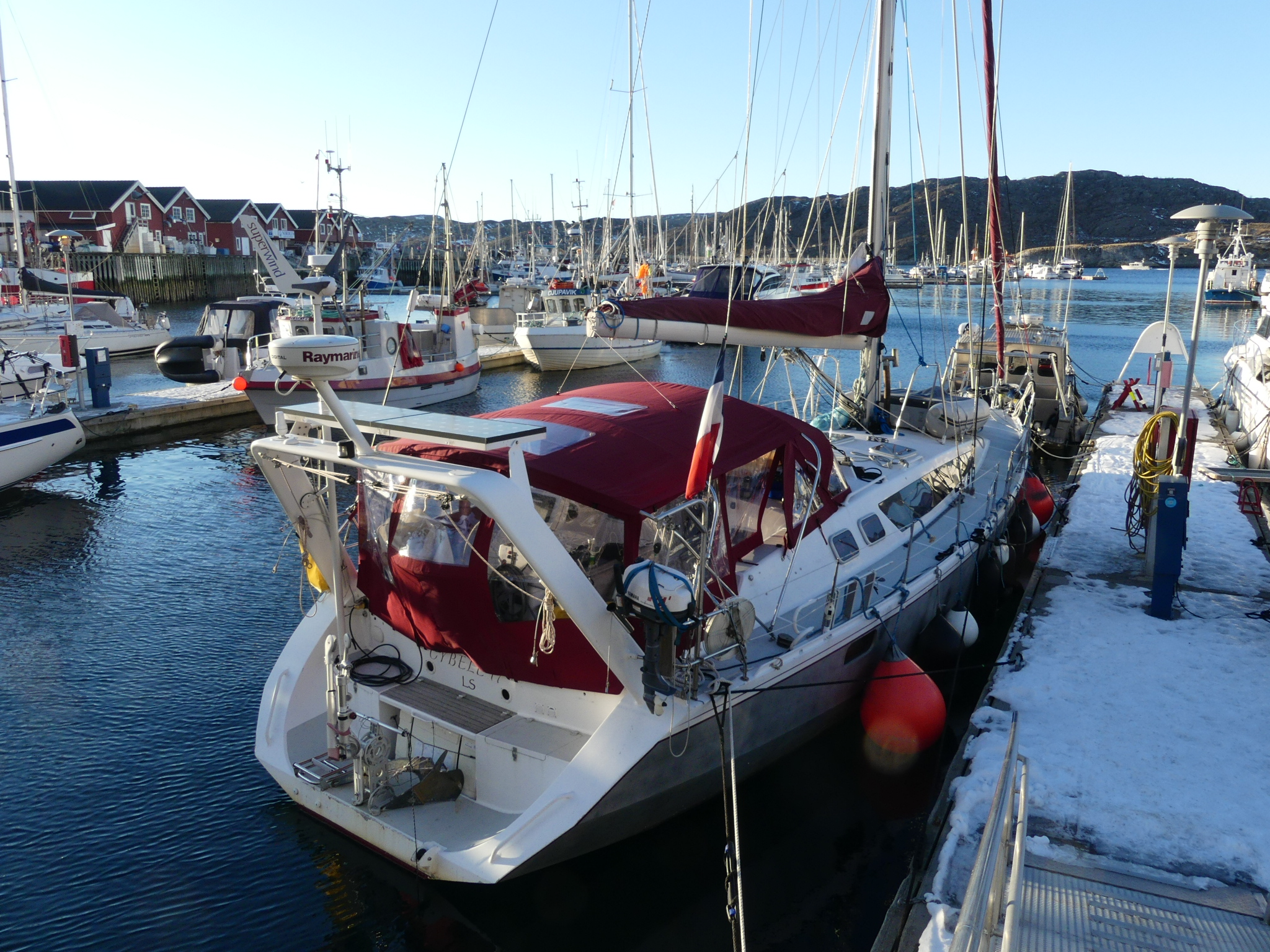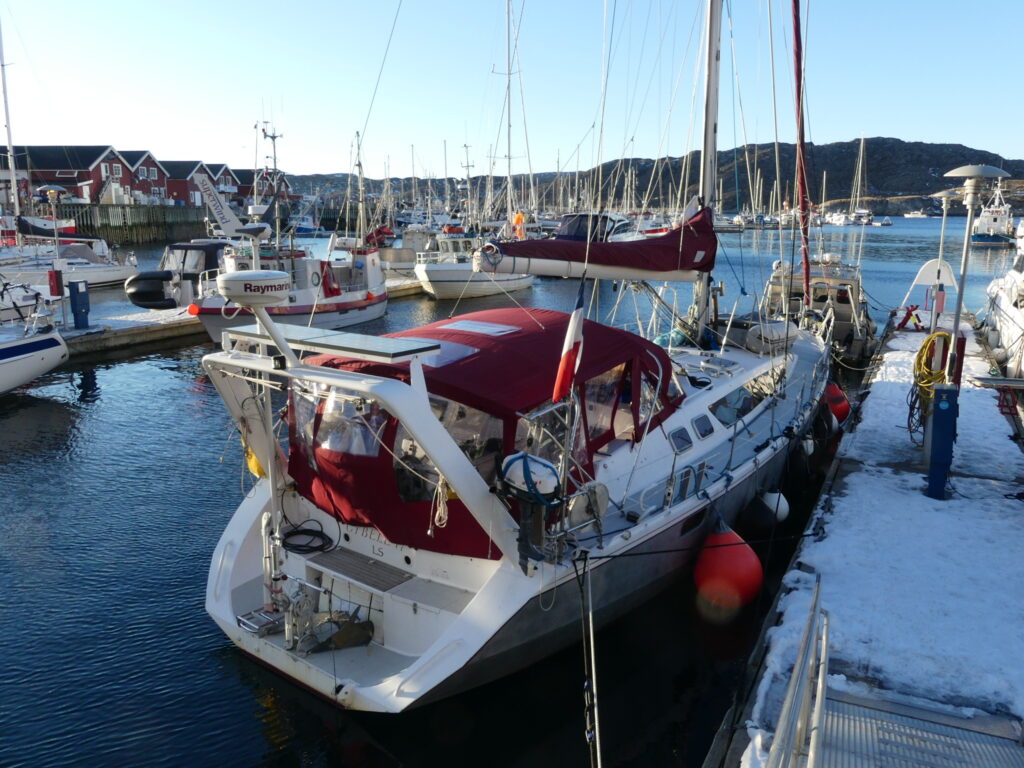 With their first cockpit enclosure, they never sailed (or only occasionally) with the tent fully up, much to Valérie's regret. The sides of the bimini and the poor quality of the hood screens prevented a safe view of the sailing area, bearing in mind that they were generally in coastal regions that are busy and poorly marked…
On the other hand, they did have the opportunity of sailing with the bimini only, sprayhood down, to shelter from the hot sun during their trip through Sweden along the Göta Canal at a speed of just 3 knots… Even the slightest breeze was welcome… It just goes to show that Scandinavian weather is not always what we expect, and requires some modular equipment.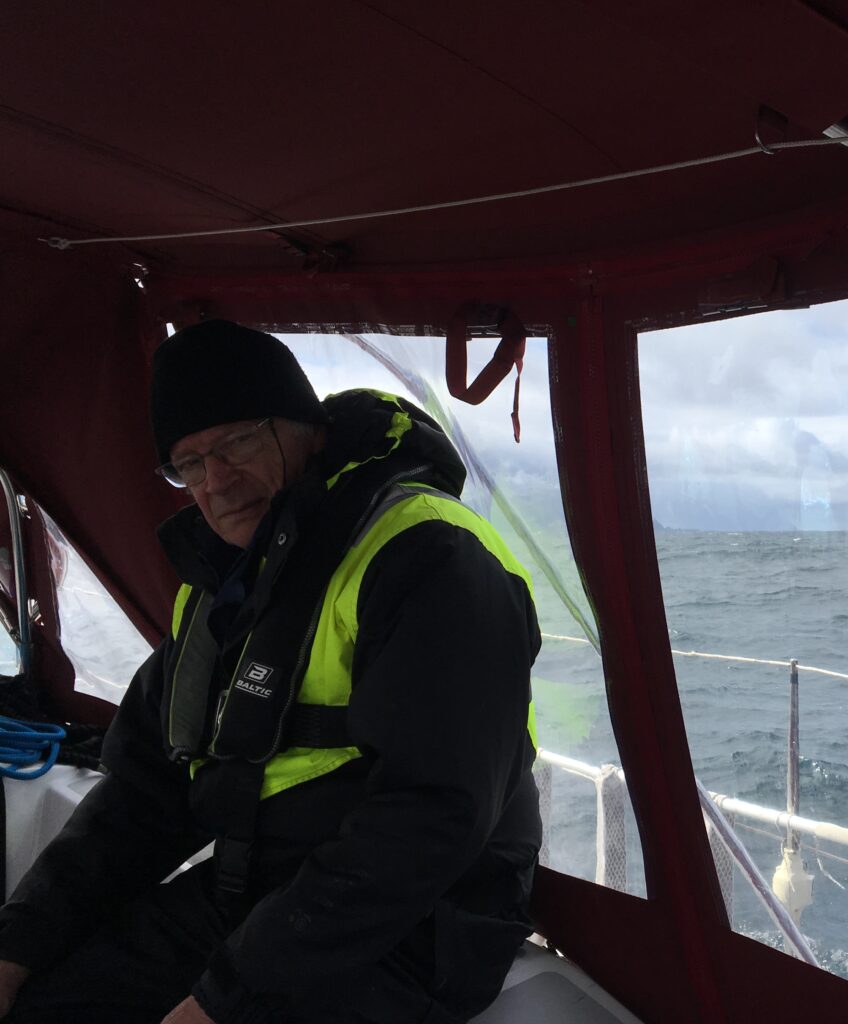 Nice and dry in their new rear enclosure
The culmination of this project with NVequipment was the design of a complete set of protective equipment (sprayhood and rear enclosure), adapted to suit their boat and their desire to continue using it. The cockpit enclosure uses conventional windows, but the sprayhood is testing ground for Strataglass® and Lexan® for the side windows. This combination provides very good visibility and lets in a lot of light, for safe sailing.
They started out from Bodø, Norway above the Polar Circle, in May 2019, and after a season exploring the coastline, they returned to Brittany via the Shetland Islands and England. This journey allowed them to test the resistance and, above all, the comfort of this new equipment! Better visibility, easier access to the cockpit, and above all, warm, dry sailing!
With temperatures regularly dropping below 10°, they really appreciate their new "convertible" sprayhood, as they like to call it.
Thanks to this new equipment, they decided to return to Brittany, after 6 years away, without having to worry about wet and windy winter weather. They will be roaming the coasts of southern Brittany and the Vendée until the end of April.