NV brand
Northern Europe Rear Enclosure
To brave the elements in all seasons
The rear enclosure covers the entire cockpit enabling the boat to be used in all seasons, and for a noticeable heat gain. It provides an additional living area on board and extra comfort in cold or wet weather. It also offers discretion in the dock. Do you love long cruises or have you decided to live on your boat, particularly in Northern European or the Atlantic? This is the product for you.
Monohulls from 35′ to 49′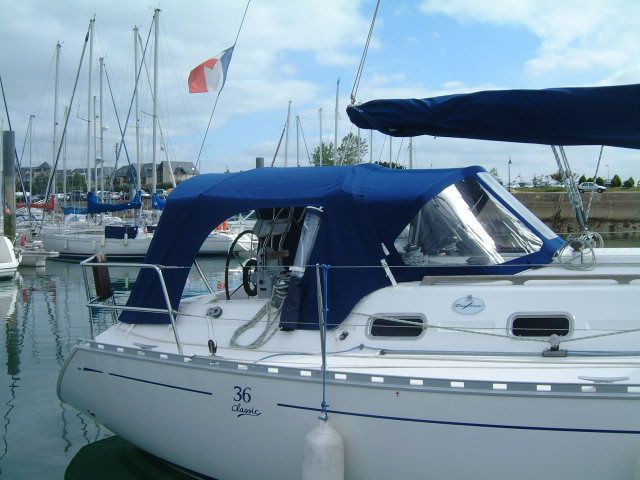 NV ADVANTAGES
TECHNICAL DESCRIPTION
NV TIPS
NV ADVANTAGES
Covers the entire cockpit as well as the helm while taking into account the boat's environment (except in certain cases).
Secure access inside and outside with the double zipper system.
The panels can be easily rolled up or removed according to the weather.
Depending on the model, integrates well with the line of the boat.
Comes with installation instructions and attachment kit.
Made in France.
TECHNICAL DESCRIPTION
Frame comprised of 2 316L telescoping stainless steel arches diameter 28mm: 1 fixed and 1 mobile.
2 fixed stainless steel arch supports with tensioner.
Deck mounted by universal articulated plate, folding on two supports fixed by collars.
Marine-grade coated acrylic canvas 330g/m2 and treated flexible PVC clear glazing.
2 side openings and rear access door.
Large teeth zipper.
Canvas surface about 15m2 depending on the model.
Canvas storage bag supplied.
Attaches to the hood handrail and to the arches by means of a sheath with zipper and protective flap / tensioning straps, fixed to 2 stainless steel two-point chain plates screwed on the aft of the cockpit.
Height 1.80 m subject to boom height.
Weight approximately 25 to 30 kg depending on model.
NV TIPS
Do not use abrasive products.
Rinse the glazing and metal parts, in particular fasteners and closures, with fresh water.
If you fold the canvas at the front, check that it is perfectly dry so as not to damage the coating.
Before setting out to sea, make sure your hood is fully tensioned. It is important to tighten your product before each use.
Make sure your canvas covers are perfectly dry before storage. Then store them in a dry place.
You will thus extend their life and avoid mould during overwintering of your boat.
To avoid breaking the windows, or damaging the effectiveness of your protections, we advise you to roll the canvas before storing it in a bag.
Descriptions are for guidance only and may be subject to updates. Consult your retailer.
Photo and colors not contractual.

Are you interested
in this product?
Find out if it was developed for your boat model.

Reliability
Products tested and approved by skippers

Technical
Products adapted to your sailing needs

Durability
Weatherproof
products

Eco-friendly
Renewable and repairable products