NV brand
Helm bimini / Handrail bimini
Enjoy the sea under the blazing sun
If you're a racing or high-speed sailing enthusiast, this sun protection is for you!
Designed for the helm on yachts, this Bimini protects you from intense heat without hindering your manoeuvres.
Halyard passages and backstay adjustments.
Depending on the weather, it can also be kept in a folded position under its cover. An extension is available for some models, allowing the cockpit to be shaded at anchor. It covers the central part of the cockpit between the bimini on handrail and the roof hood. Only available on certain models. Check on www.nvequipment.com
Monohulls from 35′ to 49′ – Sun protection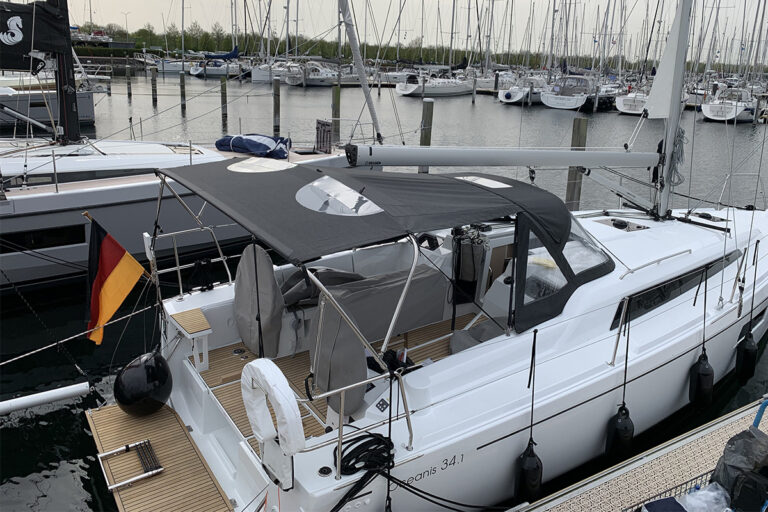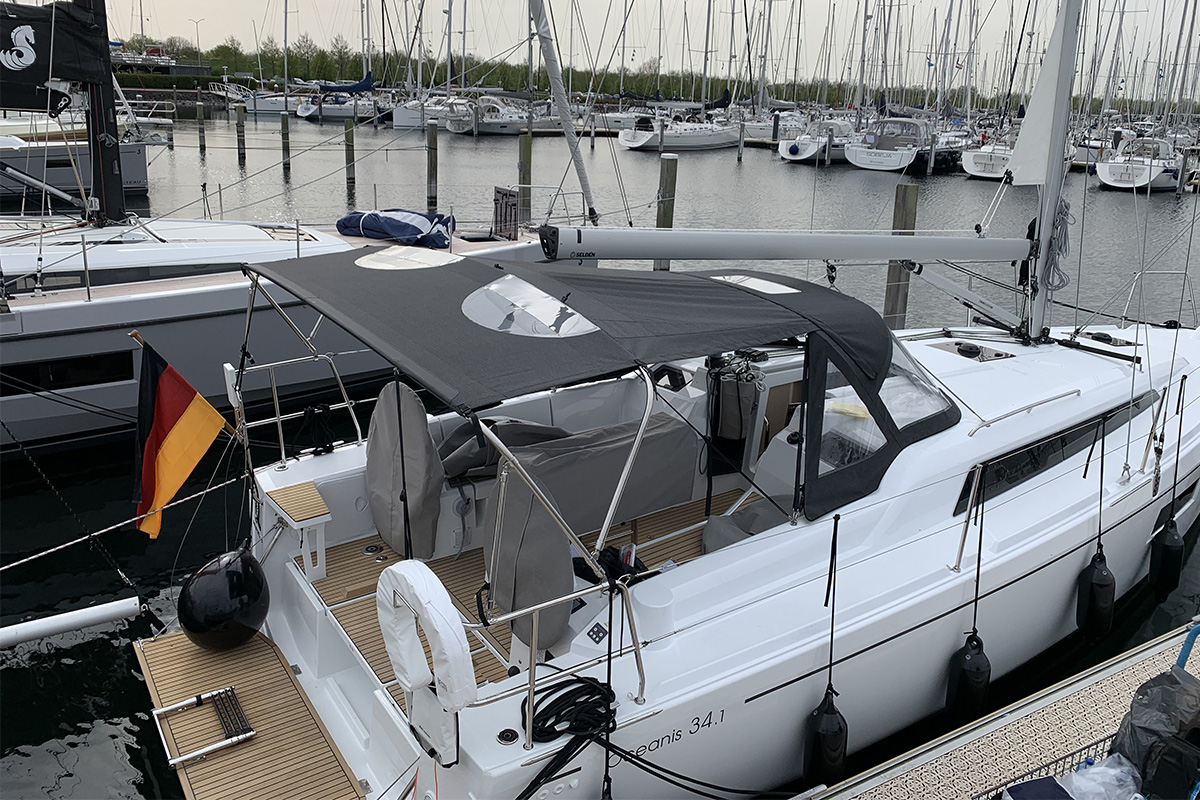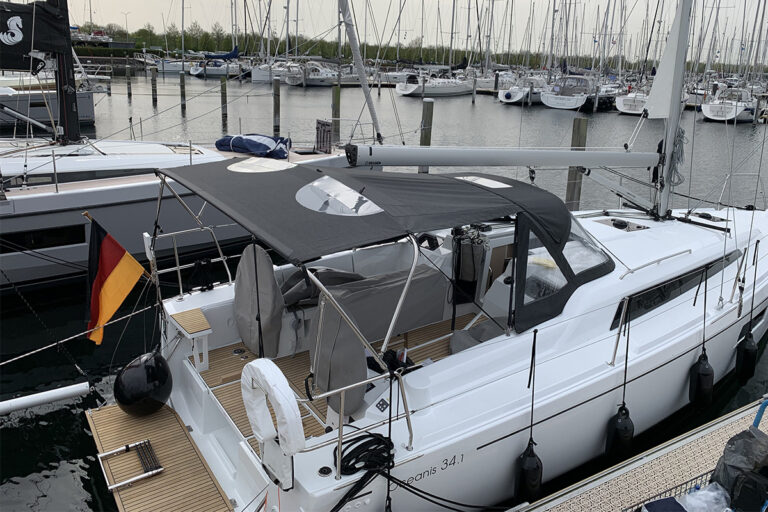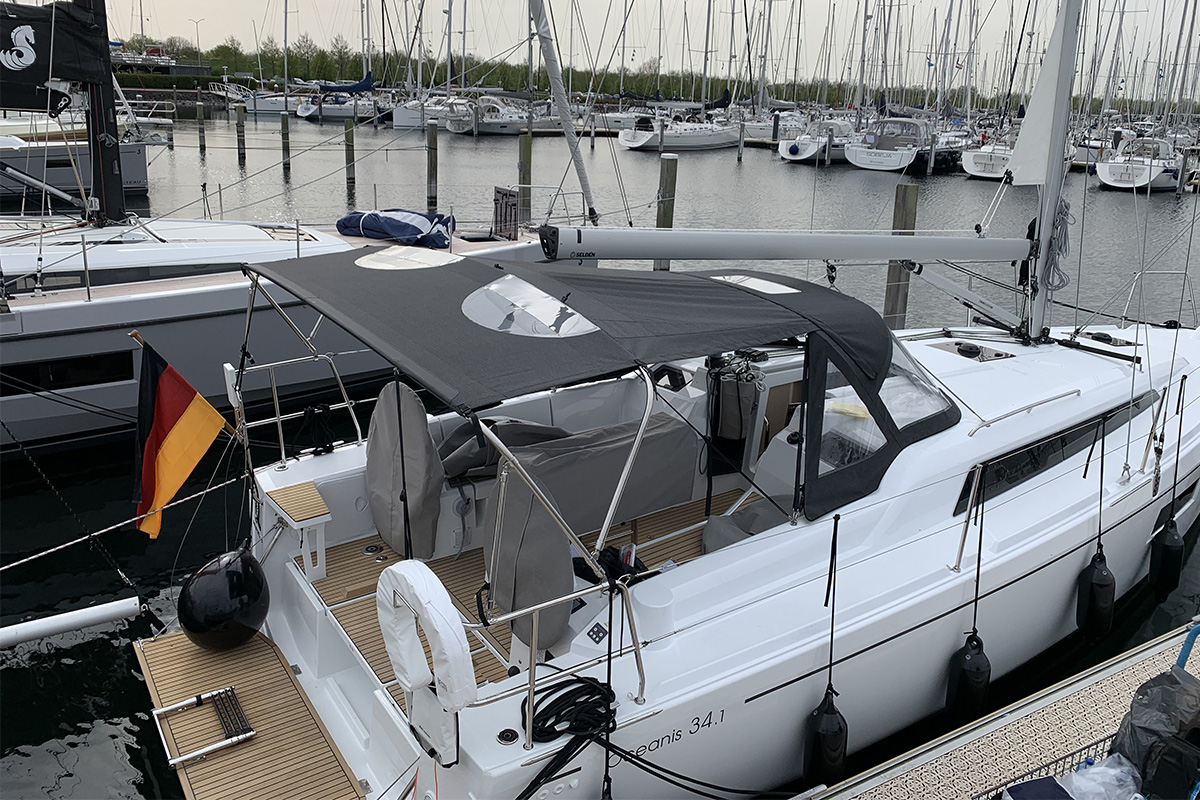 NV advantages
TECHNICAL DESCRIPTION
NV TIPS 
NV advantages
Sun protection covering the helm station(s) depending on the model.
Does not interfere with maneuvers.
Folds easily and conveniently, storage cover in folded configuration provided.
Can be used at sea.
Comes with installation instructions and attachment kit.
Made in France.
TECHNICAL DESCRIPTION
2 316L stainless steel arches diameter 28mm or 30mm depending on model.
Handrail collar attachment.
Folds onto standing rigging.
Special coated marine-grade acrylic canvas 330g/m2.
Canvas tensioning by front and back straps on chain plates.
Takes into account boom height and backstays.
Protective canvas cover provided.
Extension attached by zip to the front of the bimini and held in place by drawstring on the front shrouds.
Extension can only be used at anchor, can be removed or rolled up at the front of the bimini.
Fiber lat to hold product volume.
Finished with Stamskin reinforcements.
Approximate weight: between 12 and 15 kg depending on model.
NV TIPS 
Do not use abrasive products which may damage the canvas coating or dull the windows and make them opaque over time. Rinse them well with clear water (down to the bottom of the hood).
Make sure your canvas covers are perfectly dry before storage. Then store them in a dry place.
You will thus extend their life and avoid mould during overwintering of your boat.
To avoid breaking the windows, or damaging the effectiveness of your protections, we advise you to roll the canvas up before storing it in a bag.
>>> Discover our cleaning tips 
The descriptions are given for information only and may be subject to updates. Consult your retailer.
Photo and colours are not contractual.

Are you interested
in this product?
Find out if it was developed for your boat model.
NV brand,
chosen by passionate sailors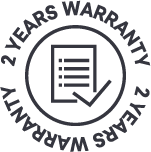 on all NV and Access products, to guarantee you the best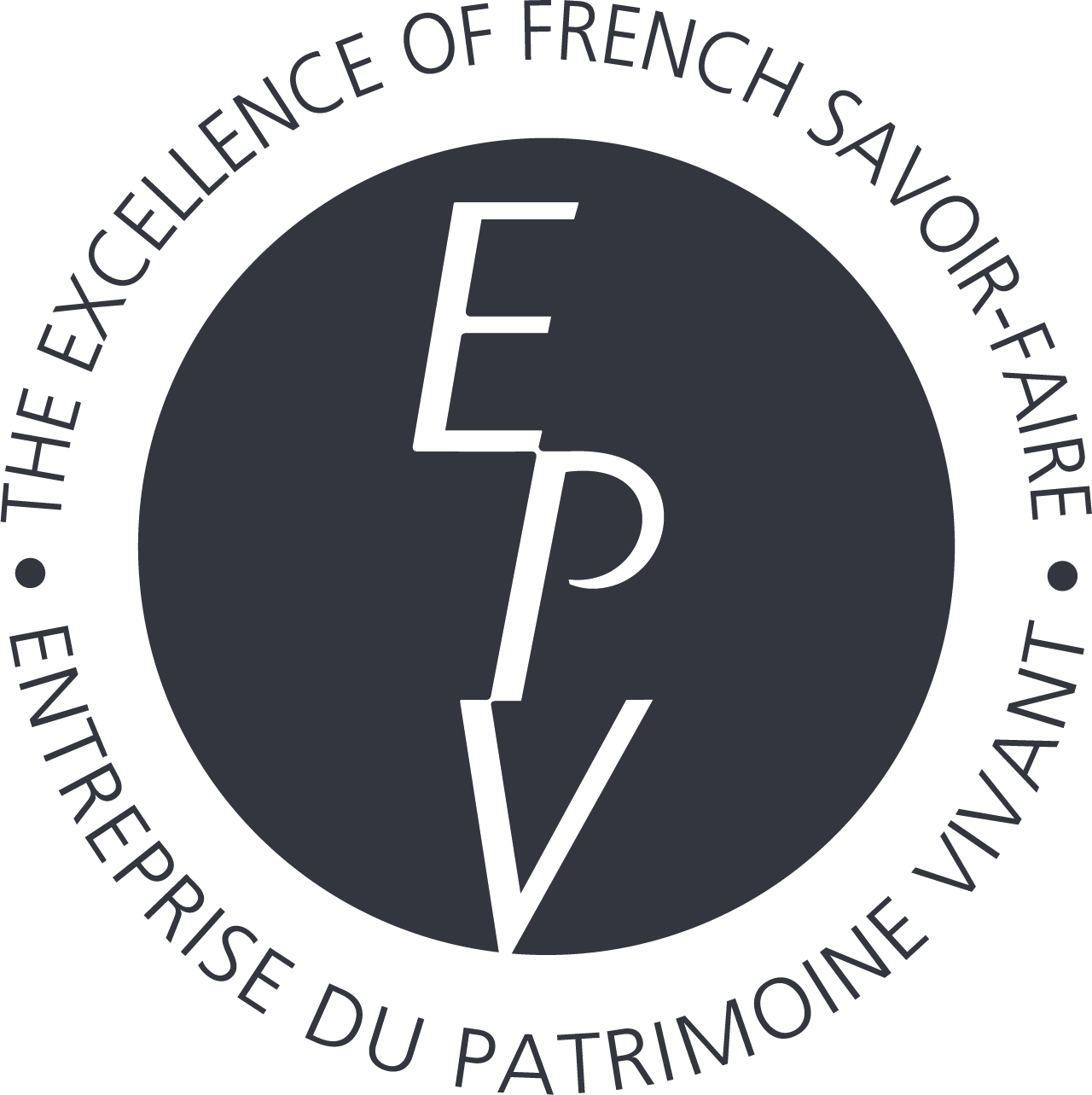 A label that guarantees the high performance of our profession and our products.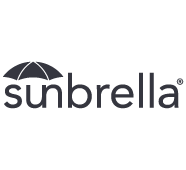 The most reliable fabrics on the market to provide quality, design and comfort.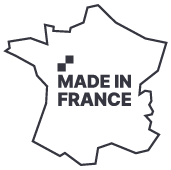 Equipment designed and manufactured with love in our workshops in Western France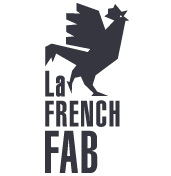 Certified member of the French Fab since 2018