Voyage with Valérie & François
from Brittany to Iceland season 2021- March to August 2021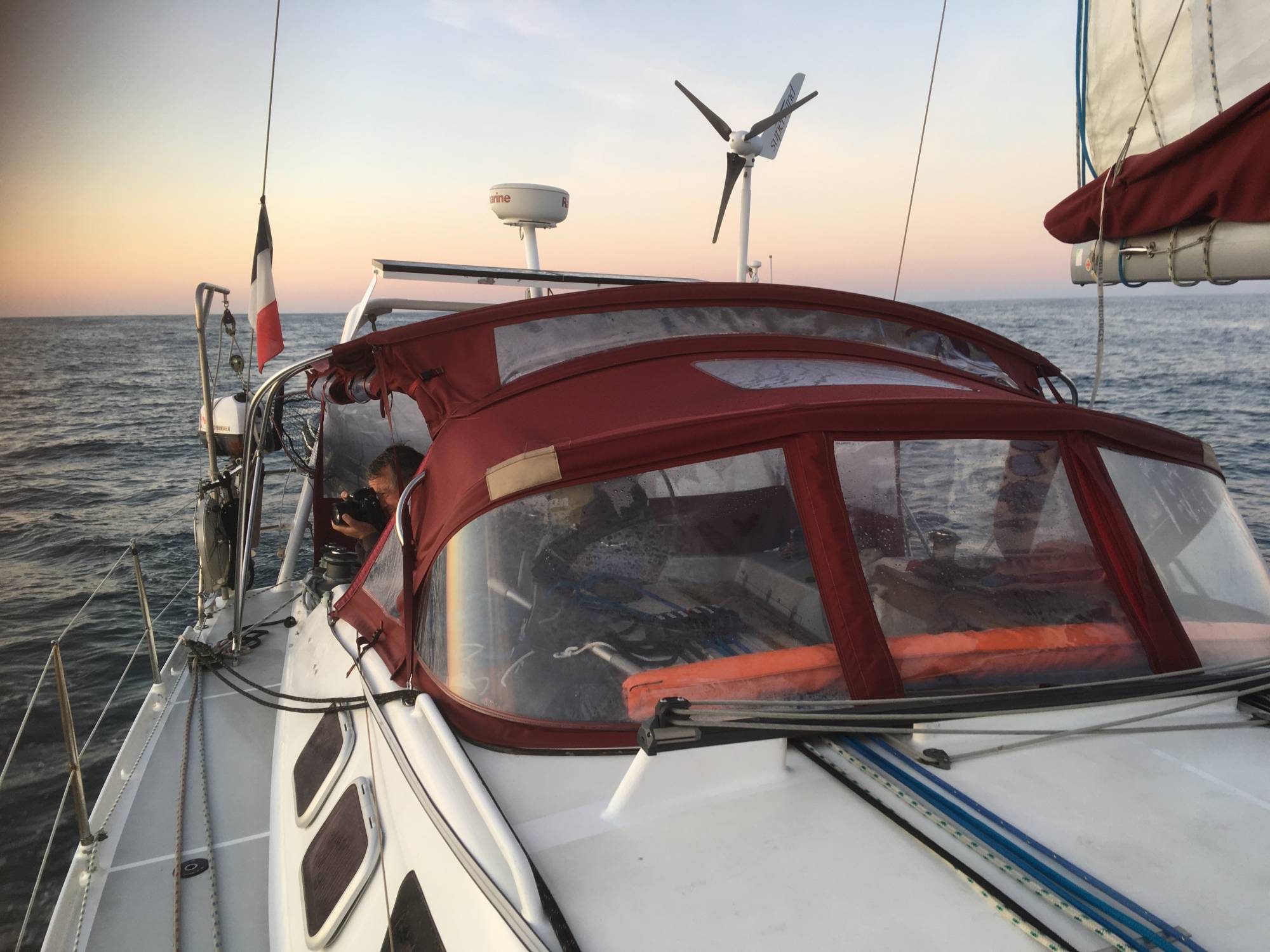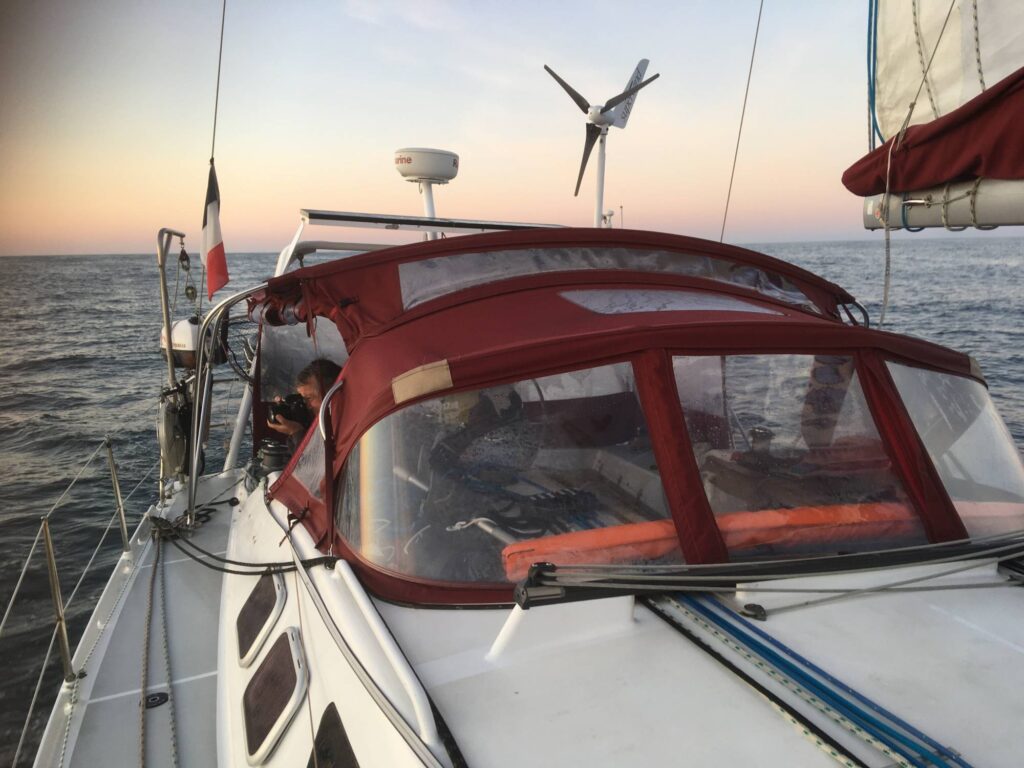 Hello everyone!

It has been quite an intense season since last March. We were in La Rochelle for a quick stopover, … we hadn't planned on a 3rd lockdown… Our stopover lasted until mid-May, followed by a "rough" return trip to Arzal on the river Vilaine, to carry out annual maintenance on our hull. We were lucky to be able to wait for the right weather windows, but sometimes you just have to move on, and spring was not easy on the Atlantic coast this year…

Back to La Rochelle to change the standing rigging decided at the last minute, and our thanks to PREPA NAUTIC for their responsiveness and efficiency.
Finally, duly vaccinated, with Cybèle dressed in her most beautiful finery, we set off again for Brittany at the end of June.
It's always difficult saying goodbye to good friends. We are rarely accompanied on our sailing trips north…

So it's decided, we'll head to Iceland, via the west coast of Ireland.
The last few days in Brittany, last kisses to the children and parents, while we await in the shelter of the Odet.

C'est décidé, ce sera bien l'Islande, via la côte ouest irlandaise.
Derniers jours en Bretagne, derniers bisous aux enfants et parents, on patiente à l'abri de l'Odet.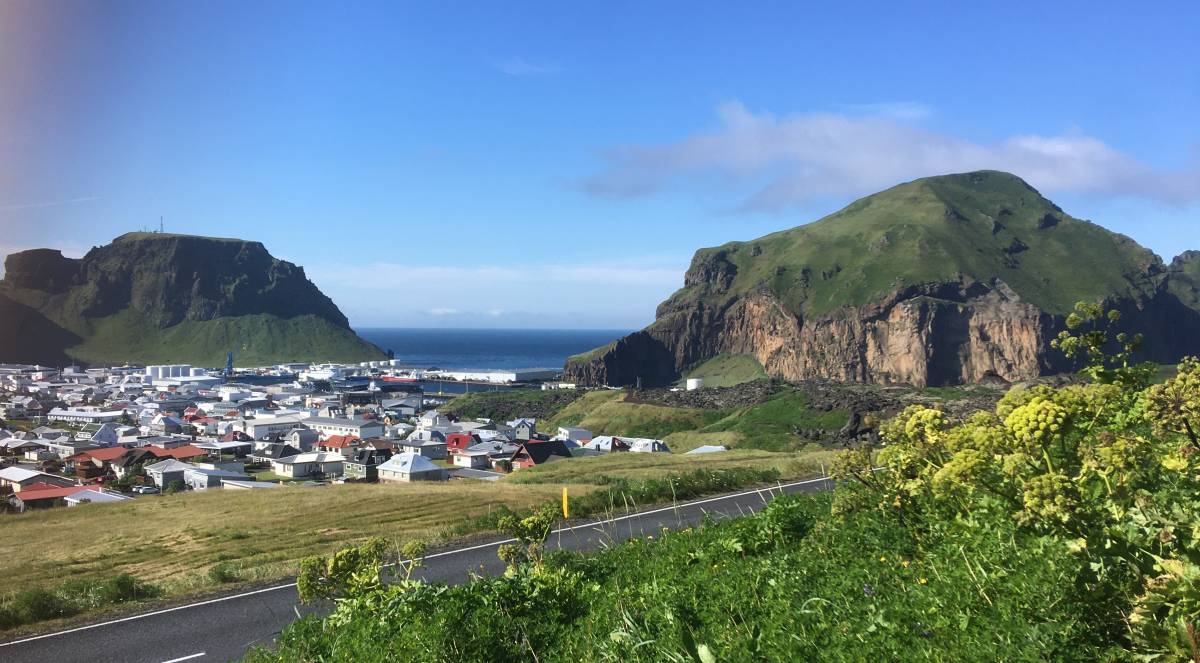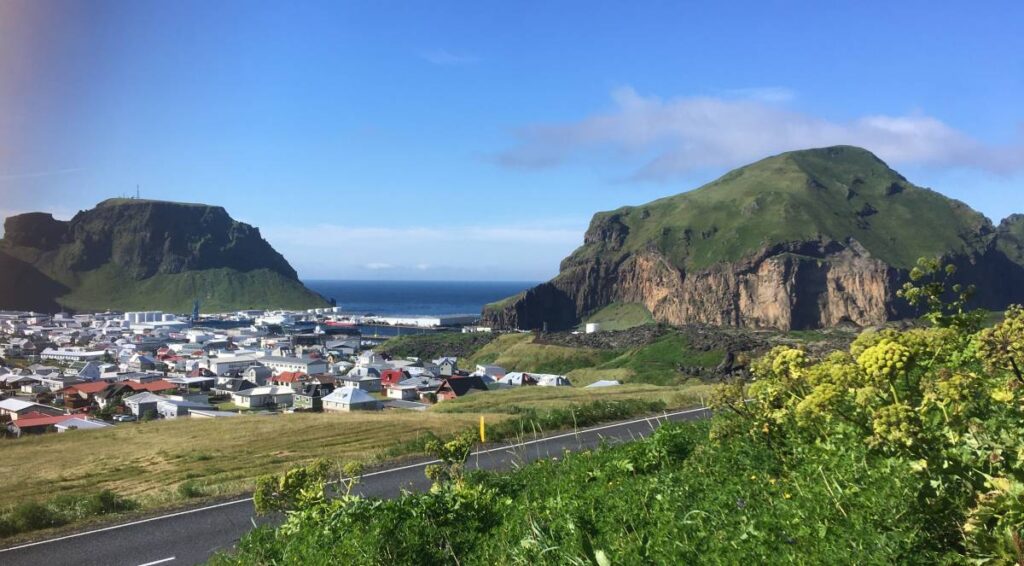 Our friend Denis, owner of a sister-ship of Cybèle, will be joining us in Ireland.
​
Ireland reopened its borders to health pass holders on 19th July. So we wait until 11.30 pm on Thursday to leave the bay of Benodet, so as not to leave on a Friday! The weather is beautifully calm. Whatever, finally WE'RE OFF!
After 3 sunny days at sea, we arrive gently in Dingle Bay on the morning of the 19th. Irelands welcomes us in the sunshine with temperatures higher than those in Brittany!
We were delighted to catch up with Isabelle Autissier on her ADA2. Back in La Rochelle, we knew we were heading in the same direction, and we keep in touch all along our navigations. In Galway, Denis joined us on board and we set off for Iceland.
​
We had planned to sail up the coast of Ireland while awaiting a favourable weather window for the crossing. But after some discussion we decided to cut across by the south, as it was late in the season and the crew was light. Denis could only stay 3 weeks. The route from the Faroe islands to eastern Iceland and then northwards, was risky for just the two us from mid-August. So we decided to cross from Northern Ireland to the Vestmann islands south-west of Iceland.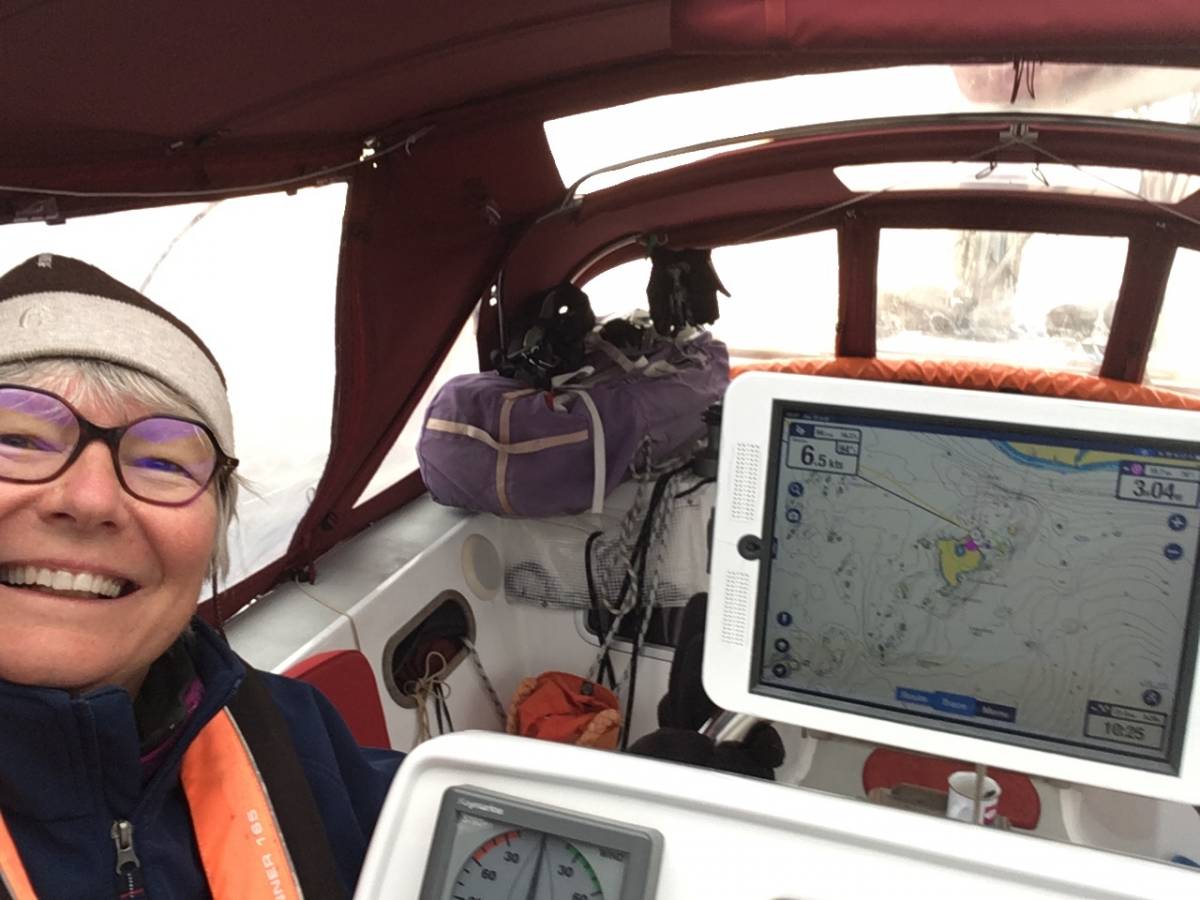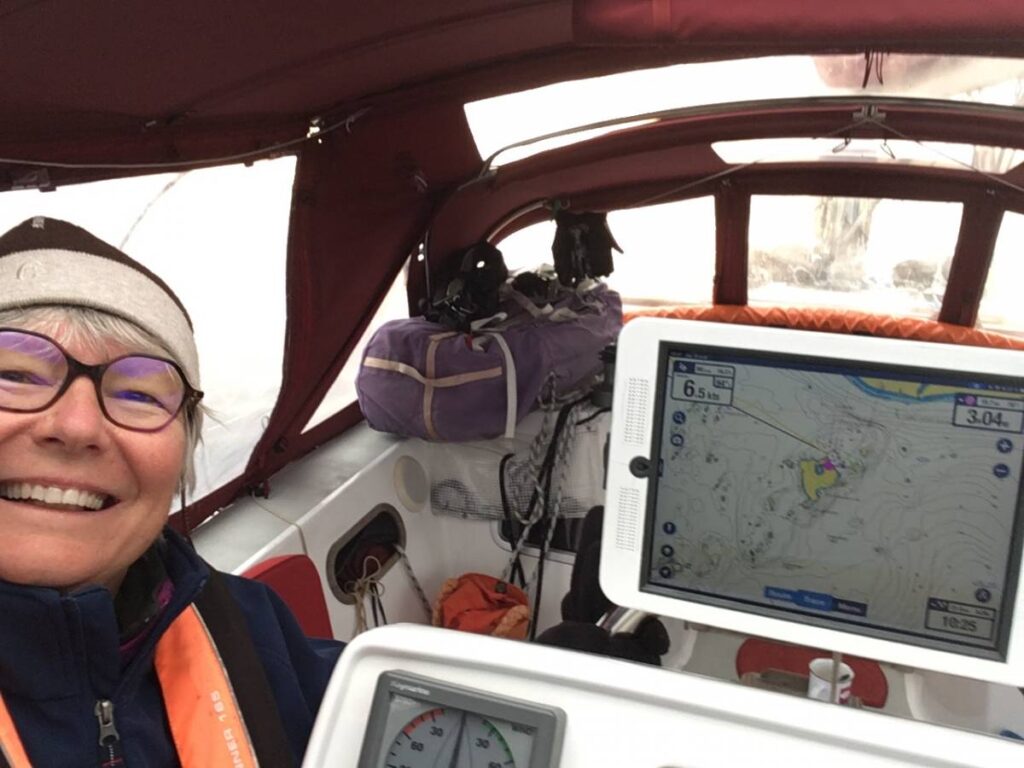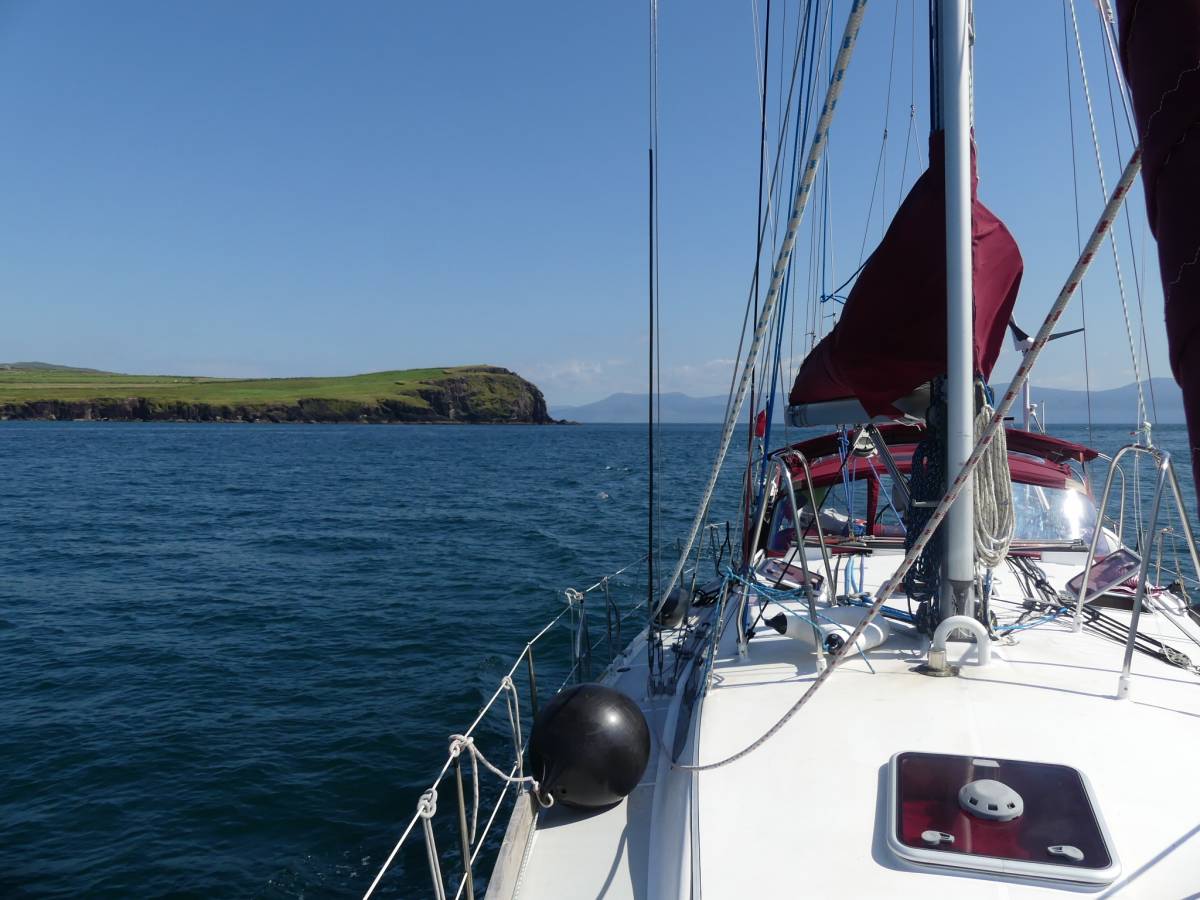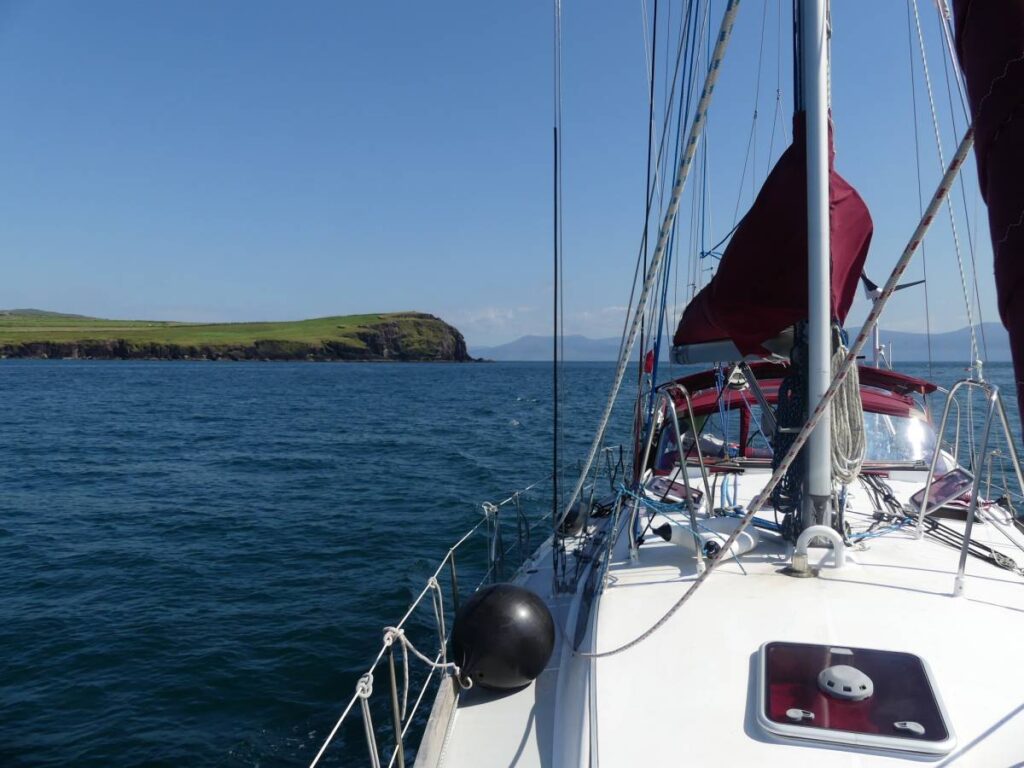 The weather window took its time, and the Irish coast offered some wonderful stopovers, such as Clare Island and the Inishkea islands, among others. There, we discovered the extraordinary tale of the "Queen of Pirates", Grace O'Malley, who at the end of the 16th century, reigned over land and sea during most of her long life. Finally, we headed up to Barra, the southern-most island of the Outer Hebrides.
​
The weather window opened at last and we quickly set sail for Iceland. Four days at sea with a strong headwind and rough seas. Quite uncomfortable, but at least there were 3 of us and we managed our watches easily. In fact it was quite a luxury for the two of us, used to switching over every 2 or 3 hours according to energy levels.
At dawn on 9th August, we caught sight of the southern coast of Iceland and the magnificent Mýrdals-jökull glacier. The Vestmann islands also appeared rapidly on the horizon. The only inhabited island in this volcanic archipelago is Heimæy. It has a very sheltered port, redone in 1973 after the volcano erupted, burying one third of the town and almost closing the entrance to the port. Nobody died thankfully. The first boat we met was French, heading back to France.
​
What a magnificent stopover! The volcano and its museum, a tour of the island and its puffins, make it a sought-after tourist destination. The sun had disappeared and we were extremely lucky for our arrival.
We rested for 3 days and headed to Reykjavik, pushed by the weather. The male crew were lucky enough during their watch to see the volcano on the coast behind Grindavik, which has been erupting for several months. And they didn't even wake me up…
After 24 hours of motoring (unfortunately), we tied up under the spendidly colourful facade of the Harpa Concert Hall overlooking the private marina.
Quite emotional for the whole crew, and what a welcome from those already moored, French and Swiss, attracted like us to the more difficult latitudes.
The sun came out over the capital to welcome us. It's a colourful town, easy to explore and we wandered randomly. I quickly came across the lively town centre, the old town, the seafront and the ports. As we will have the whole winter to explore, we kept our museum visits for the more difficult months to come.
A hop on a bus to meet the yacht club crew who will be welcoming us to the port of Hafnarfjörður during the winter. They were friendly and eager to hear of our adventures. Another winter that promises to be warm and hospitable!
I'll tell you about the "summer" navigations in a 2nd post, as our Icelandic Experience starts here. And what an experience.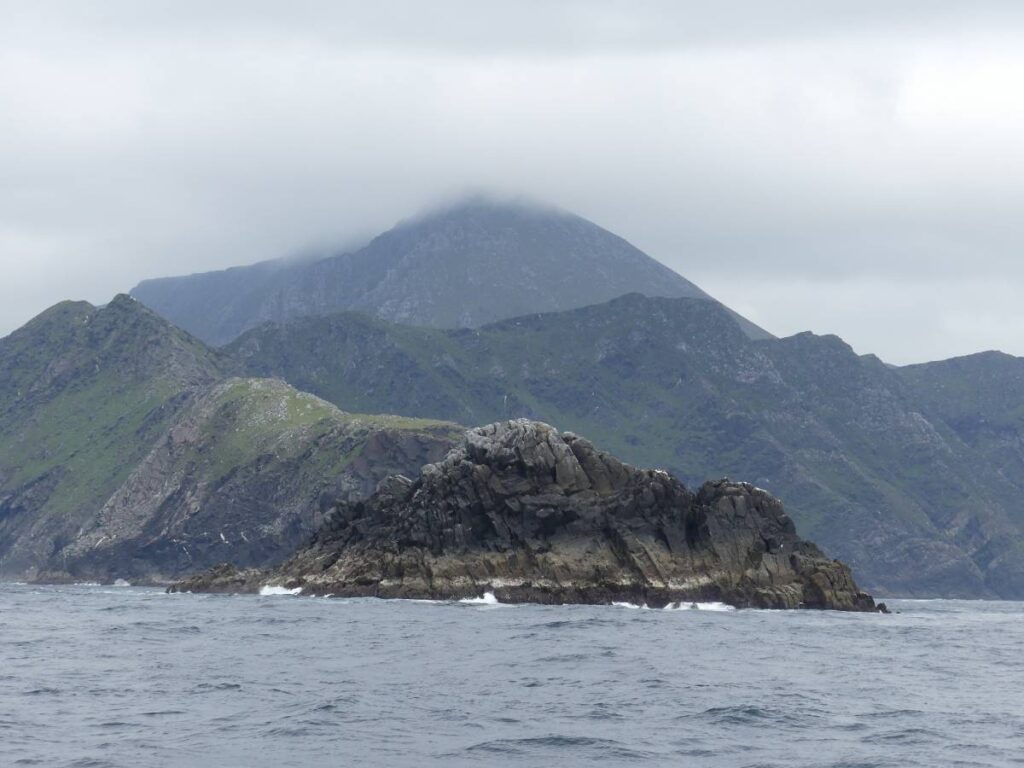 Denis flew off to other horizons and we were delighted to catch up with our friends Barbara and Thierry on their Gaïa, meeting up several times over the following weeks.
As usual, our rear cockpit enclosure was a haven of comfort during these long weeks. Although we folded it up in Ireland to make the most of the beautiful sunny days, we quickly put it back to enjoy the sun, out of the wind!!
​
We ate all our meals in the cockpit. Denis, owner of Cybèle's sister-ship, only uses his when moored. He took a while to adapt, losing some references when sailing, and sometimes regretting not feeling the full force of nature's elements, he nevertheless conceded that our crossing had been that much more comfortable thanks to our enclosure. He spent many hours putting together a magnificent film of his stay on board. I did admire how he could work on his screen at sea… I can't even manage to read!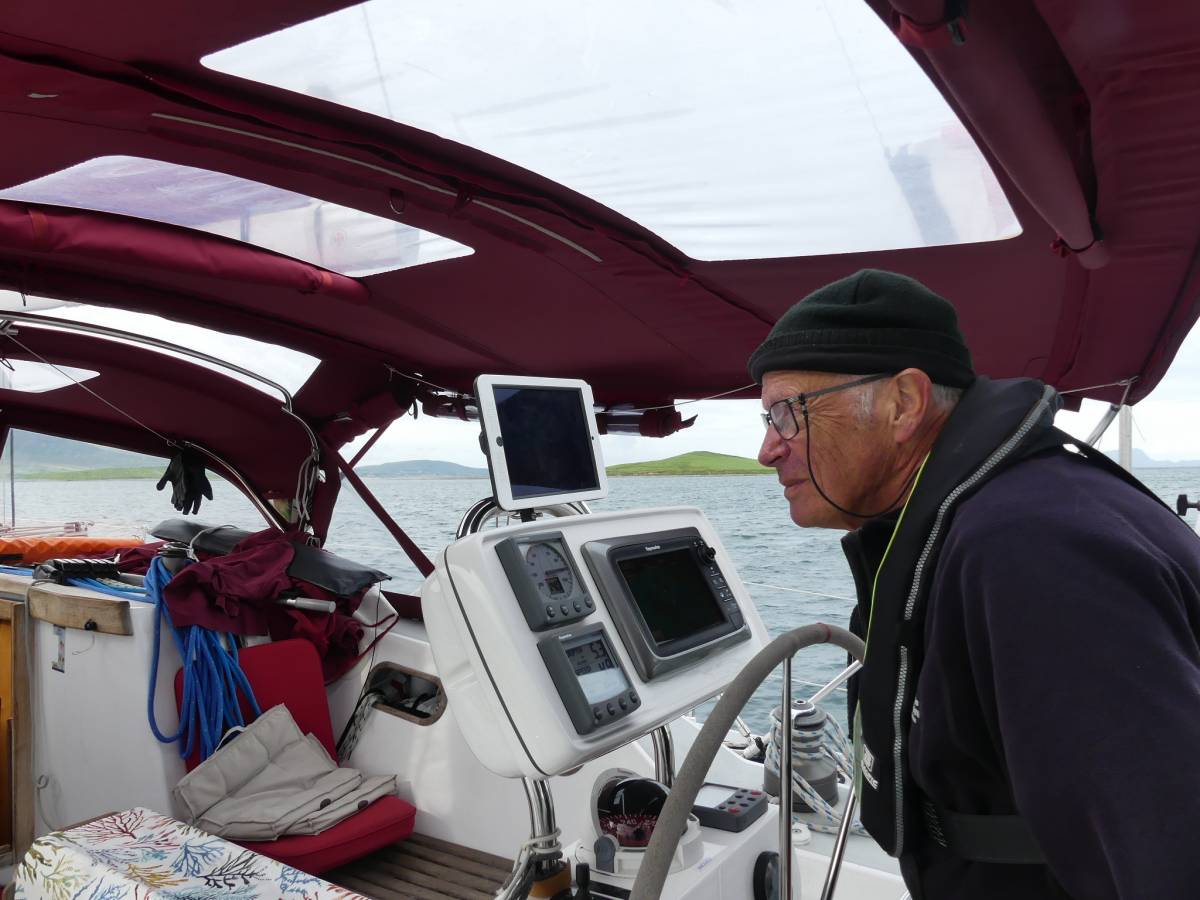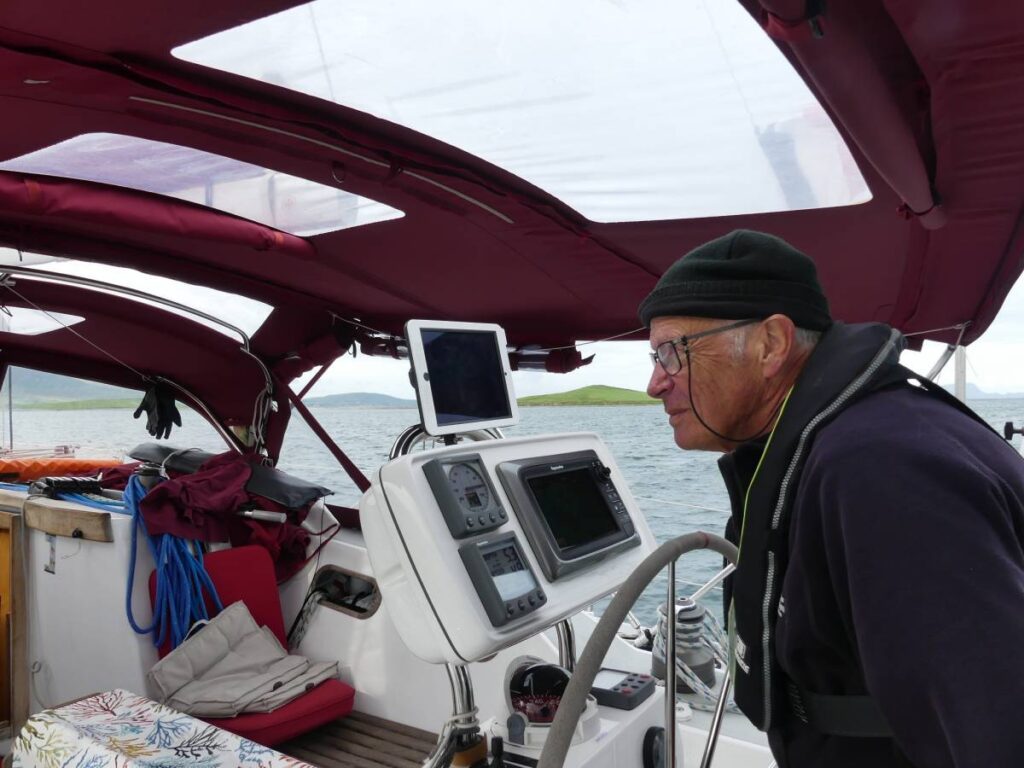 As usual, you can follow our voyage on our blog: Les voyages de Cybèle, or for quicker updates, our page of the same name on Facebook.
​There, you will find Denis' film:
Nous aurons plaisir à vous lire, si vous nous écrivez – voire vous rencontrer, si vous venez nous voir sur le stand NV pendant les salons d'hiver.
Vous pouvez suivre notre position grâce à notre AIS sur MarineTraffic.

A très bientôt pour la fin de notre saison !
Valérie
Septembre 2021